Carniolan Queens from Olivarez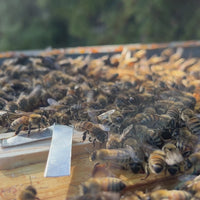 Carniolan Queens from Olivarez
5:65,10:63,40:61
| Minimum Qty | Discount |
| --- | --- |
| Buy 5 + | Each $65 |
| Buy 10 + | Each $63 |
| Buy 40 + | Each $61 |
 These carniolan queens are brought in for us, and originate from Olivarez in California.
Some info on these queens from the producer Olivarez:

"Carniolans are known for their winter hardiness, rapid spring buildup, and exceptional honey production. They show excellent resistance to tracheal mites and are great comb builders. OHB has several sources for instrumentally inseminated breeder queens. The queens we produce from these breeders are open-mated with all of our stock for genetic diversity and hybrid vigor.
 
Carniolan traits:
A good choice for colder climates

More likely to forage on cool, wet days than other bees

Quick to brood up when nectar is available

Excellent honey producers"
Delivery dates at bottom of page.
--
Ordering a Larger QTY?
If the website won't let you check-out it may be due to insufficient queens left to reserve. Please
contact us
 as we are often able to increase our orders with sufficient notice. We typically will need to make a special order if you are looking for 40+ queens.
Available for Pick-up or Shipping (throughout BC & Yukon only at this time). You will typically have 1-2 days to pick-up your queens once they arrive. For shipping, we will typically wait until the following Monday to send them via Canada Post. This is to prevent the queens from being untended in the mail stream over the weekend. We will bank queens if it is appropriate.
All queens shipped via vented boxes designed specifically for queen transport, clearly labelled with contents of box and handling instructions. However, please be aware that there is 
no insurance
for live bee shipments and customer assumes all risk. Queens always ship separate from other products.
<40 Queens = $40, regardless of quantity
40+ Queens = Additional shipping costs may apply depending on your location. We can provide an exact quote if needed.
NOTE: This rate is per queen delivery. (Ex: If you add 2x queen types and/or delivery dates to the cart, your freight rate will be $80 for the queens.)
--
General Note on Queen Ordering: We recommend checking out with only one form of live bee reservation at a time and to order equipment/supplies on a separate order. This helps minimize customer confusion regarding when products are available for pick-up, when and which products are shipping, the price for shipping of products versus queen shipping, etc. If you are getting your queens shipped, please note that the Canada Post charge will apply for each Delivery date.
 --
Current Schedule:
Last Updated: August 29th, 2023
| | |
| --- | --- |
| Special Delivery April 27th: | SOLD OUT |
| Delivery 1: | SOLD OUT |
| Delivery 2: | SOLD OUT |
| Delivery 3: | SOLD OUT |
| Delivery 4: | SOLD OUT |
| Delivery 5: | SOLD OUT |
| Delivery 6: | SOLD OUT |
| Delivery 7: | SOLD OUT |
| Delivery 8: | SOLD OUT |
| Delivery 9: | SOLD OUT |
| Delivery 10: | SOLD OUT |
| Delivery 11: | SOLD OUT |
| Delivery 12: | SOLD OUT |
| Delivery 13: | Arrived August 16th - 1x IN QUEEN BANK, ON SALE |
| Delivery 14: | Arrived August 29th, 2023 (Pick-up Only) -- We expect these will be the last queens of the season we bring in. |