Bee Smart Designs QUAD Play (Clearance, Final Sale)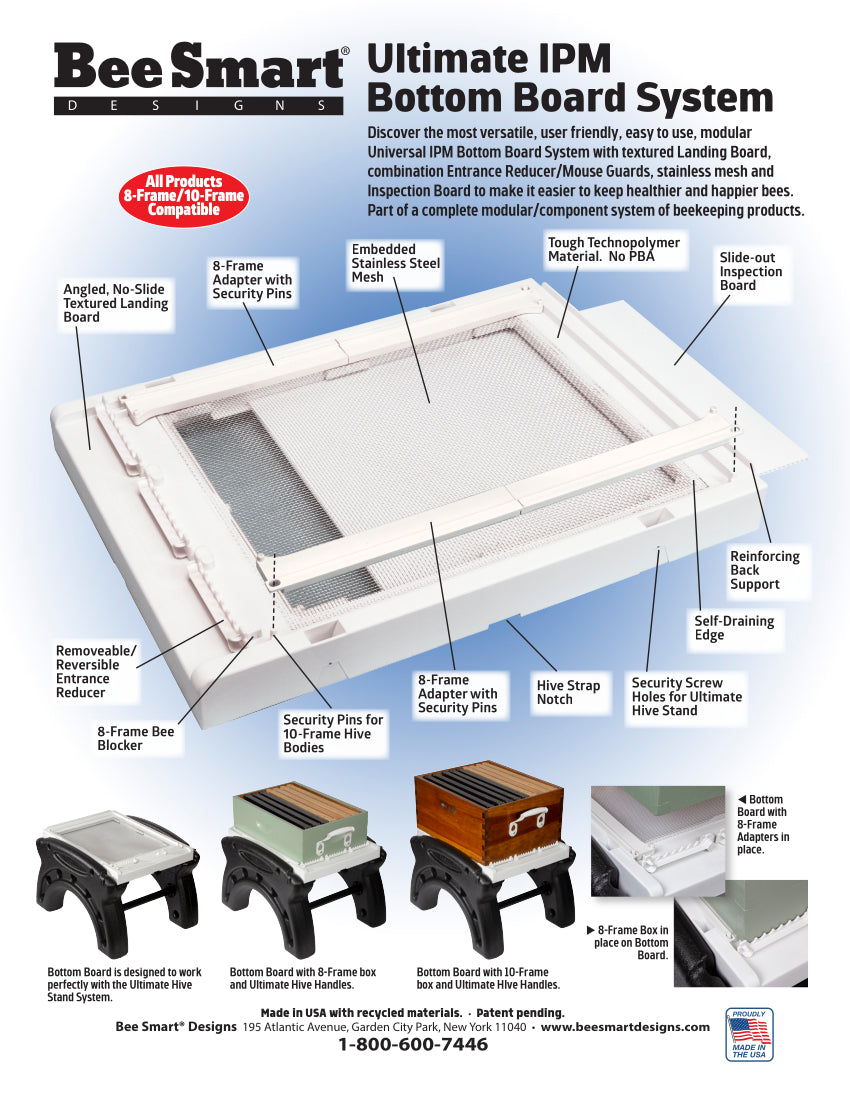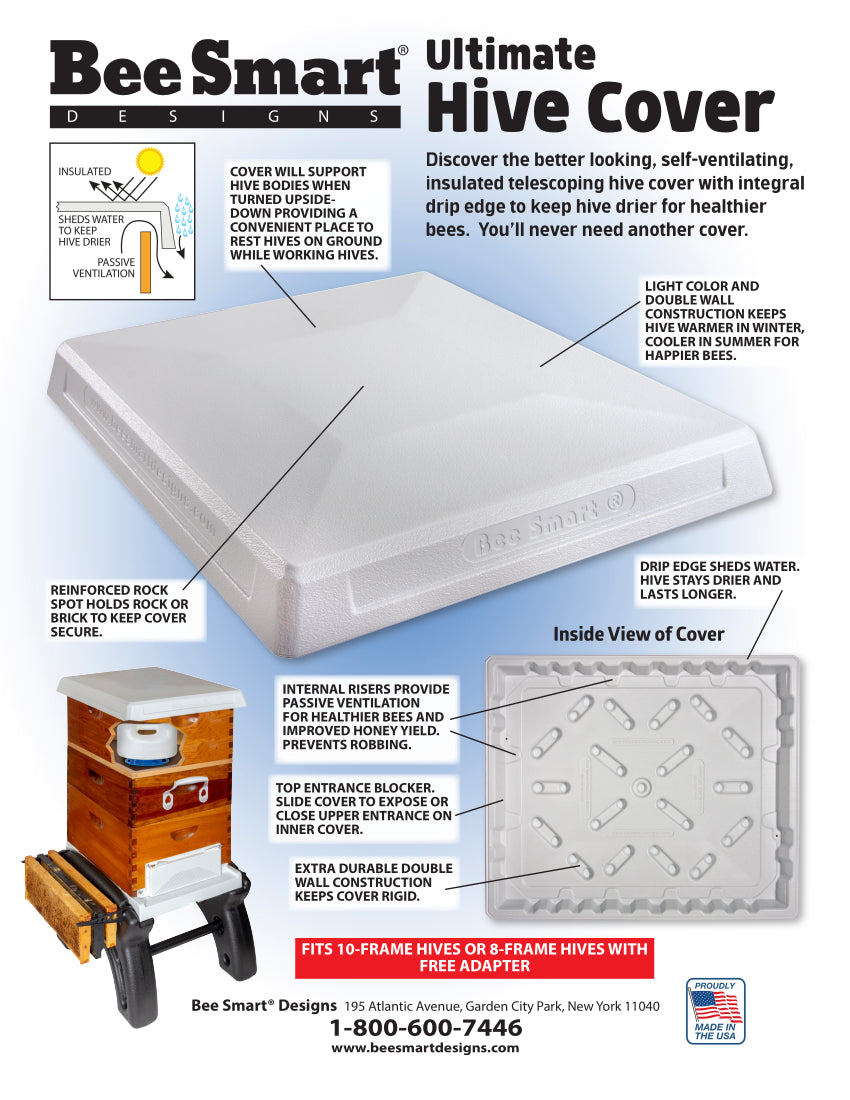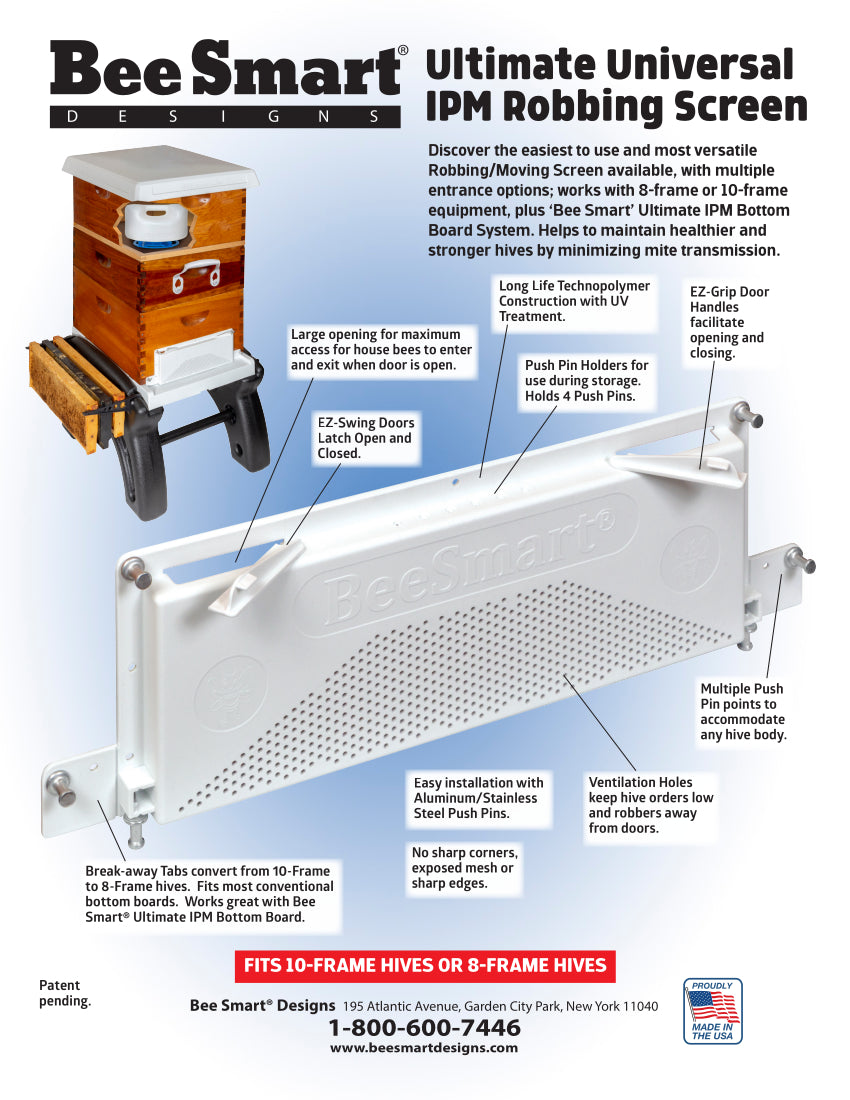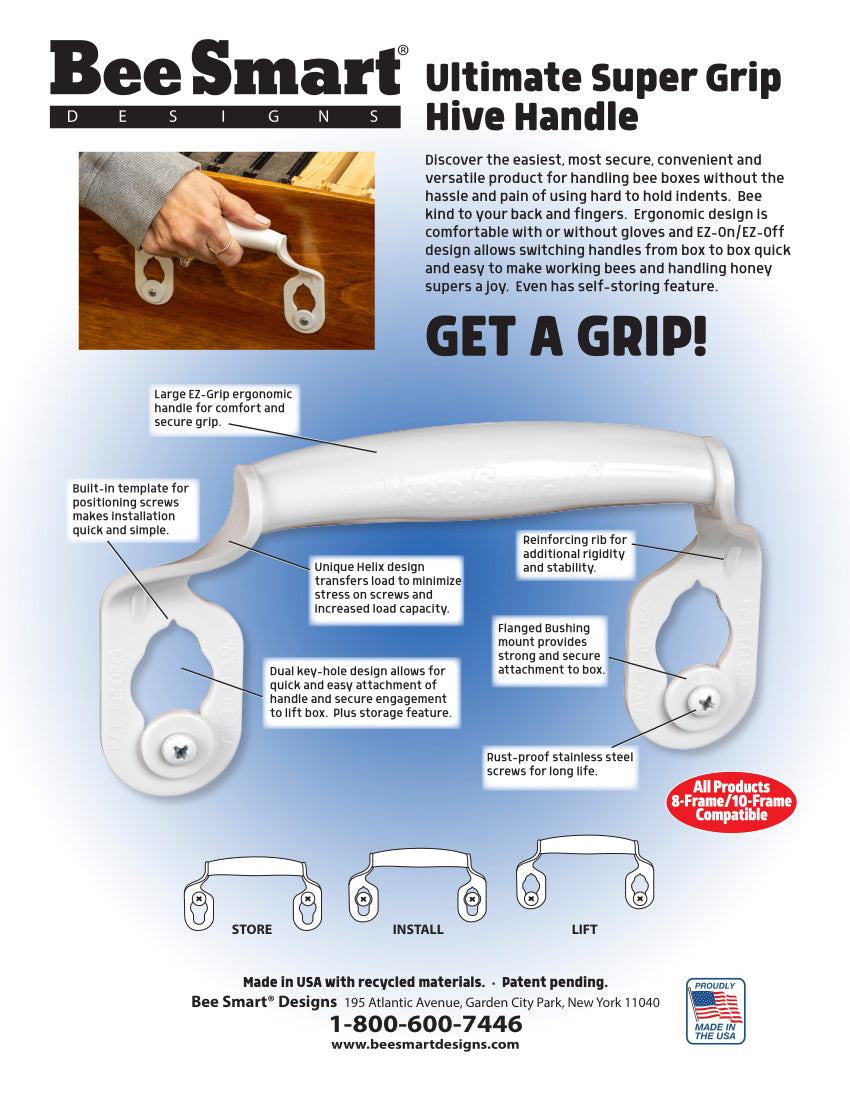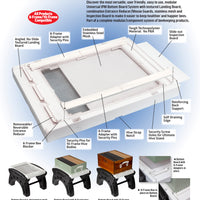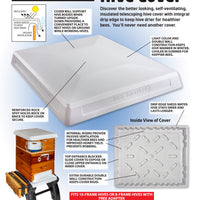 Bee Smart Designs QUAD Play (Clearance, Final Sale)
IMPORTANT NOTE: The bottom board in this kit is not compatible with 7/8"+ thick Langstroth supers, which are the variety which we sell in store. Instead, it is designed for 3/4" thick supers. Most Canadian manufacturers are 7/8", which means that this product is not compatible with their boxes. However, if you run 3/4" (which is more typical from US suppliers), then this equipment is fully compatible. Some examples of what this equipment is compatible or not with:
Lewis & Sons: INCOMPATIBLE

Dancing Bee: INCOMPATIBLE

Mann Lake: COMPATIBLE

Dadant & Sons: COMPATIBLE
Due to this incompatibility with some of our equipment, this item is ON SALE and FINAL SALE. This is an excellent chance for somebody with compatible hardware.

---
CONTAINS: Ultimate Hive Cover + Ultimate Bottom Board System + Ultimate Robbing Screen + Super Grip® Hive Handle
All Items are 8-frame/10-frame compatible
 ---
Ultimate IPM Bottom Board System
Discover the most versatile, user friendly, easy to use, modular Universal Bottom Board System with everything you need to keep healthier and happier bees.
NOTE: Compatible with 3/4" thick boxes, NOT 7/8". Check your box wall thickness before purchasing. Urban Bee's supers do not quite fit into the slots correctly. It would be possible to make 7/8" fit however if either: (1) the pins at the back are removed, or (2) the boxes to be fitted are slightly modified on the inside bottom.
Product Details
Standard model is 10-frame, with optional 8-frame adapters.
Includes 4-reversible Entrance Reducer/Mouse Guard for 3 openings
Entrance Reducers allows for ventilation when moving bees
Security pins keeps boxes from moving.
Includes slide out inspection board.
Self-draining design prevents build up of water.
Rounded inner corners restrict hiding places for Small Hive Beetles.
Textured and angled landing board for drainage and easier landing.
Optional ventilated winter board minimizes drafts and controls humidity.
Includes 2-way notches to hold hive straps for hassle free moving.
Virtually indestructable
Never needs painting
'Ready 2 Use'
'Made in USA', completely recyclable.
3 Hive Openings Allow
For Maximum Versatility
Use in any combination:
Full Open
Mouse guard
Entrance reducer
---
The Ultimate Hive Cover
The only hive cover you will ever need, with a clean contemporary design that looks great in any apiary or garden. Perfect match with 'Ultimate Hive Stand'
Product Details
Double wall construction with dead air zone insulates hive.
Keeps hive cooler in summer & warmer in winter
Built in drip edge keeps hive and hive components dry for longer life.
Exclusive 'Soft Edge' design eliminates all sharp edges; easy on fingers.
Fits all 10 frame equipment with optional 8 frame adapter.
Technopolymer construction will not rot; resists sticking from propolis.
Lasts longer than wood and never needs painting; maintenance free.
Lightweight and easy to handle; weighs only 3 pounds.
Internal structural ribbing to support hive body when upside down.
Flat top supports rock or brick; can be strapped to hive.
White shade looks good with any hive and reflects heat; cool to the touch.
No assembly required; ready to use.
Textured, scratch resistant, surface looks neat and clean all of the time.
Made in USA with recycled materials.
Passive Ventilation System:
Improves airflow for more honey production
Eliminates moisture for healthier bees
Keeps hive cooler in summer
Prevents robbing by blocking top entrance in inner cover.
---
The Ultimate Robbing Screen
Discover the easiest to use and most versatile Robbing/Moving Screen available. Helps to maintain healthier and stronger hives by minimizing mite transmission.
Product Details
Dual Robbing Screen/Moving Screen.
Works with 8-frame or 10-frame equipment; removable sides.
Fits conventional bottom boards and Ultimate IPM Bottom Board.
Includes pins to fit BeeSmart® IPM Bottom Board or act as bottom vent on conventional bottom boards
2 independent entrances with separate gates to eliminate robbing.
Easy to grip gates latch 'Open' or 'Closed'.
Top entrances for maximum access for house bees.
Ventilation holes patterned to keep robbers away from gates, control odors.
Easy installation; Mounts with push pins. No Tools.
Optional strap for simple, fast mounting.
No sharp edges or corners; Never needs painting.
Engineering grade Technopolymer for long life and durability.
Proudly 'Made in USA'.
Helps Prevent Transmission 
of Mites, Part of An IPM Plan:
Prevents mite re-infection of treated hives.
Prevents bees picking up mites from crashing hives.
Prevents varroa bombs from infecting other hives.
---
The Ultimate Super Grip Hive Handle
GET A GRIP! Discover the easiest, most secure, convenient and versatile product for handling bee boxes without the hassle and pain of using hard to hold indents. Latch keeps handle in engaged position.
Product Details
Simple to use

Switch handles from box to box in seconds; nothing is simpler
Dual Helix design prevents screws from pulling out.
Flanged bushing and keyhole attachment design is strong and secure.
Self-storing on boxes means less things to carry to apiary
Attaches to either side of box; front/back is easiest for lifting
Ergonomic design is comfortable.
Works with or without gloves; not sharp edges
Made from toughest Technopolymer available.
Stainless steel screws for long life and durability.
Universal Design Works on
Almost Any Wooden Box:
Deep/Medium/Shallow
8-frame/10-frame/nuc
WEIGHT: 4.1 kg SKU: xBUNDBSDQUAD