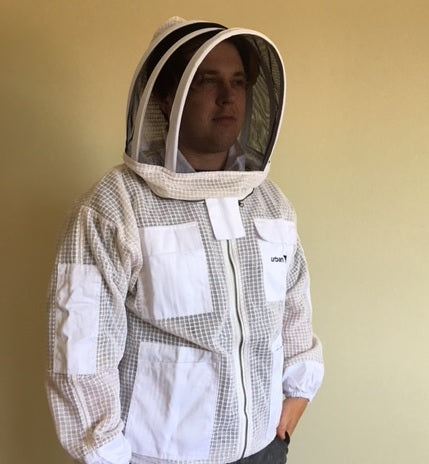 The perfect summer beekeeping jacket: three layers of vented fabric allow you to breathe and let in the breeze. These vented jackets are available in Small to 4XL. They offer all the bonus's of a regular jacket but leaves you so much cooler on those hot summer days. Feel the wind blow through your hair!
Includes 4 pockets on the front, and a pocket for your hive tool on the arm. Veil included. Metal zippers and durable veil.
Machine washable except for veil. Veil detachable; detach veil prior to washing.
** The clothing size chart shows exact item measurements and does not refer to your personal measurements. We recommend selecting the standard size that you would normally wear or one size larger if you plan to layer.
WEIGHT: 0.94 kg DIMENSIONS: 31 x 31 x 5 cm SKU: CLTHJktV-S